Boyd Chubbs – In The Studio
February 22, 2021
Boyd Chubbs
In The Studi0
Christina Parker Gallery spoke with Boyd Chubbs on his recent exhibition, By Other Light You Have Found Me. Boyd discusses the different inspirations and meanings in his practice.
What initial impulses motivate you to begin a drawing?
An image accumulates from fragments scattering as if from a jigsaw puzzle dumped on the table but there's no set image as a guide to work towards. Those fragments whirl, somersault, disappear, reappear until a coherent form begins to emerge and when it shifts into nearer-and-nearer focus then I begin its physical construction. That process is the constant motivation and to render the images into a narrative requires years.
The drawing "Comes the Wild Goose, the Wild Goose and I'm Going Home" suggests autobiographical references. Could you speak to that?
The title "Comes the Wild Goose, the Wild Goose and I'm Going Home" is from the late Wayne Hemsworth (1916-2002), Ontario songwriter who worked in Newfoundland in WW 1 with the RCAF and where, he said, he "discovered traditional music". There's a sentiment in it, a wilderness sound, which grabbed me when I heard the McGarrigle Sisters'; recording and exponentially when I heard Mr. Hemsworth's voice. The land I was born into, Labrador, fills me to stillness but it's not a sentiment of nostalgia it's a living, breathing magnet that calls for the returning, the spiritual summons. For in dream, or in wakening, the homeland cliffs, the sea-barrens, the water is the constant heart of existence. I titled a drawing long years ago: 'Away to the North a Landscape is Singing'. The moon brings an illumination to support that's unexplainable but without fail compels me to imagery.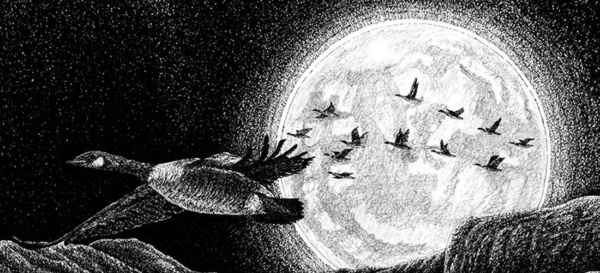 Your drawings relate to a myriad of inspirational ideas. I'd like you to select a specific drawing from your recent series, By Other Light You Have Found me" to inform us of the inner world you express in your work.
In the drawing "Rising Moon and Parting Glass", the table image is borrowed from a painting by French artist, Pascal Dagnan-Bouveret (1852-1922), from his work "La Cene" (The Last Supper) and "Parting Glass" of the title is from a Scottish poem even pre-dating Burns' "Auld Lang Syne". The ascending moon becomes the natural frame for the solitude of the figure. There have been others at the table but now the only figure, in this headland-garden, raises a prayer, a blessing to all, including the Self. A decision has been made and the figure, in his leaving, is communicating, none can accompany but he knows where he's going and what the further journey requires. The elements of land, sea and sky are witness to the decision and are quiet in repose and regard. In our leaving none can accompany but witnesses record and will speak our name.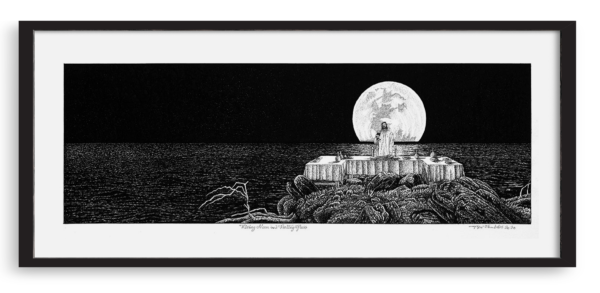 "Boyd Chubbs lives through images. As long as I've known him, his language has always been image-based, through his visual art, his poetry and his music. He is an artist intrigued by the immense beauty of this place we call home, and we are all the beneficiaries of his devotion to his craft. The images represented here are both bewildering and hypnotic, leaving space for our own interpretation of the journey."
– Des Walsh, St. John's NL